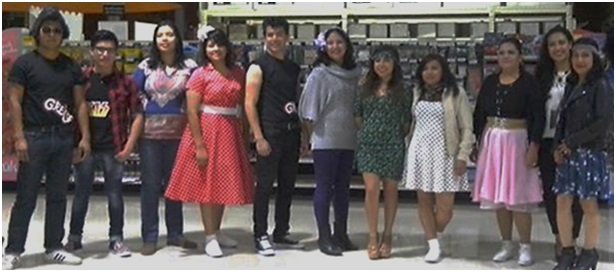 She said she had only had water to drink in the last three days—no food.  Elena was from a village in the Sierra of Puebla.  She could not read.  We took her to our home," Arturo & Silvia Tome write from Puebla, Mexico.
"That was five years ago.  Since then, she trusted Christ as her Savior, learned to read, completed the middle school test, got her GED, did secretarial studies and now speaks perfect Spanish.  She is an exceptional girl.  A family from the Ebenezer church adopted her.
"She now works at Office Depot in a mall. Not long ago she had an afternoon off and asked us to visit her at the mall.  We've had the privilege of teaching her the Bible from the beginning.   So, at the mall we sat down on a bench and did a Bible lesson.
"As we were studying the Scriptures, two young men stopped and asked if they could stay and study the lesson with us. In a few minutes two girls joined us. We continued with the Bible lesson; when we finished, 11 young people (in the accompanying photo) surrounded us.  We invited them to attend Sunday school.  Next Sunday they were in church, and brought some friends with them. While talking with them we knew that prayer was backing us.   They knew that it was a miracle that all of us were in that place at that moment. It is amazing how the Lord works!  These young people were seeking God, and now they have found Him and have trusted in Christ. They are now attending discipleship classes and memorizing Bible verses."
http://www.fim.org/wp-content/uploads/2017/06/2017-06-23-Tome.jpg
272
616
FIM
http://www.fim.org/wp-content/uploads/2014/10/Official-Logo-TRANSPARENT-color-300x155.png
FIM
2017-06-23 11:59:11
2017-06-23 11:59:11
"The 14-year-old street girl approached us in a park, asking for something to eat.